Idaho Rate Review Group
The Department of Insurance received preliminary 2020 health plan information from insurance carriers on June 1 and began reviewing the proposed plan documents and rates for compliance with Idaho and federal regulations. The Department of Insurance does not have the authority to set or establish insurance rates, but it does have the authority to deem rate increases submitted by insurance companies as reasonable or unreasonable. After the review and negotiation process, the carriers submit their final rate 2020 increase information. The public is invited to provide comments on the rate changes. Please send any comments to Idaho Department of Insurance.
A key driver of increases is generally the level of health claims paid compared to the premium collected. The table below shows the level of claims paid and premium collected by each insurance company for ACA-compliant health benefit plans during 2018. In addition to claims paid, the premium needs to cover the company's administrative costs, insurance fees, and taxes. Those costs generally consume around 20 percent of the premium. Larger rate increases may be needed when the prior year's premium is not sufficient to pay for health claims and administrative costs and fees. With its rate increase submission, each insurance company submits a consumer-oriented explanation of the increase, which is available by clicking on the name of the insurance company in the table below.
Each health benefit plan has an associated "metal level" of Bronze, Silver, Gold, or Platinum and offers, at a minimum, Idaho's Essential Health Benefits package. The metal level is assigned based on the policyholder's ""cost-sharing,"" which includes any deductibles, coinsurances, copays, and out-of-pocket maximums. A Silver plan usually will have lower cost-sharing than a Bronze plan, and a Gold plan will usually have lower cost-sharing than a Silver plan. However a Gold plan usually has a higher monthly premium than a Silver plan, and a Silver plan usually has a higher monthly premium than a Bronze plan. Policyholders are able to choose which metal level and which plan within that metal level best works for them.
Preliminary
Final
Jan-Dec 2018
Overall
Bronze
Silver
Gold
Platinum
Overall
Paid Claims
Premium
Average Statewide Rate Increase
4%
3%
4%
4%
2%
4%
$199,140,000
$237,190,000
Preliminary
Final
Jan-Dec 2018
Insurance Company
Overall
Bronze
Silver
Gold
Platinum
Overall
Paid Claims
Premium
Blue Cross of Idaho Health Service
4%
5%
4%
3%
n/a
4%
$83,750,000
$97,690,000
Mountain Health CO-OP
-2%
3%
-6%
-4%
n/a
-2%
$1,820,000
530,000
National Health Insurance Company
6%
6%
5%
6%
n/a
6%
$750,000
$460,000
PacificSource Health Plans
4%
6%
3%
5%
n/a
4%
$9,930,000
$12,540,000
Regence BlueShield of Idaho
3%
0%
5%
1%
2%
3%
$69,020,000
$87,900,000
SelectHealth
6%
6%
5%
6%
n/a
6%
$33,320,000
$37,360,000
UnitedHealthcare Insurance Company
3%
5%
4%
1%
8%
3%
$550,000
$710,000
WMI Mutual Insurance Company
10%
13%
11%
10%
n/a
10%
-
-
Please note that the statewide rate increase and the carrier-specific rate increases shown are overall averages. The premium increase for an individual or family may vary greatly based on the geographic area, choice of plan, changes in enrollees or ages, eligibility for the advanced premium tax credit, and other factors. More detailed information is available below about rate changes for each Idaho rating area.
Detailed Rate Increase Information by Geographic Area
The average rate increases shown above may not be representative of the rate increases in any one geographic area or for a specific health plan. This map shows the six geographic rating areas in Idaho. Click on a rating area to see detailed rate increase information for that area.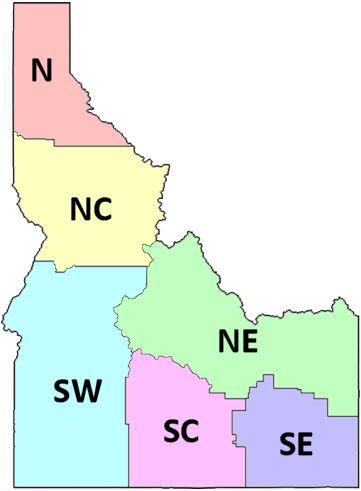 (SE Idaho) (SC Idaho) (NE Idaho) (NC Idaho) (SW Idaho) (N Idaho)
For questions regarding this information, contact the Department of Insurance at (208) 334-4250 or Idaho Department of Insurance.

Return to Idaho Rate Review